The dogs we have helped, so far…..
---
Rosie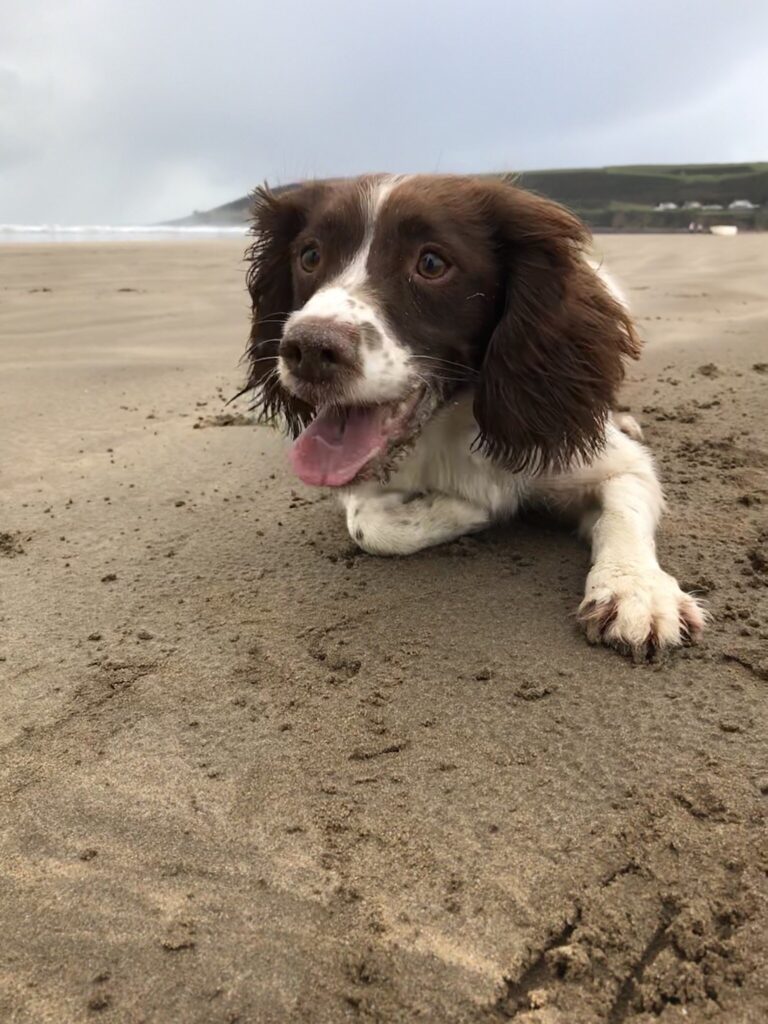 In April 2022 Rosie wasn't herself. A check up with the vet revealed a slight gastro infection. Consultation and treatment totalled £46.
Total paid £46.52
---
Ozzy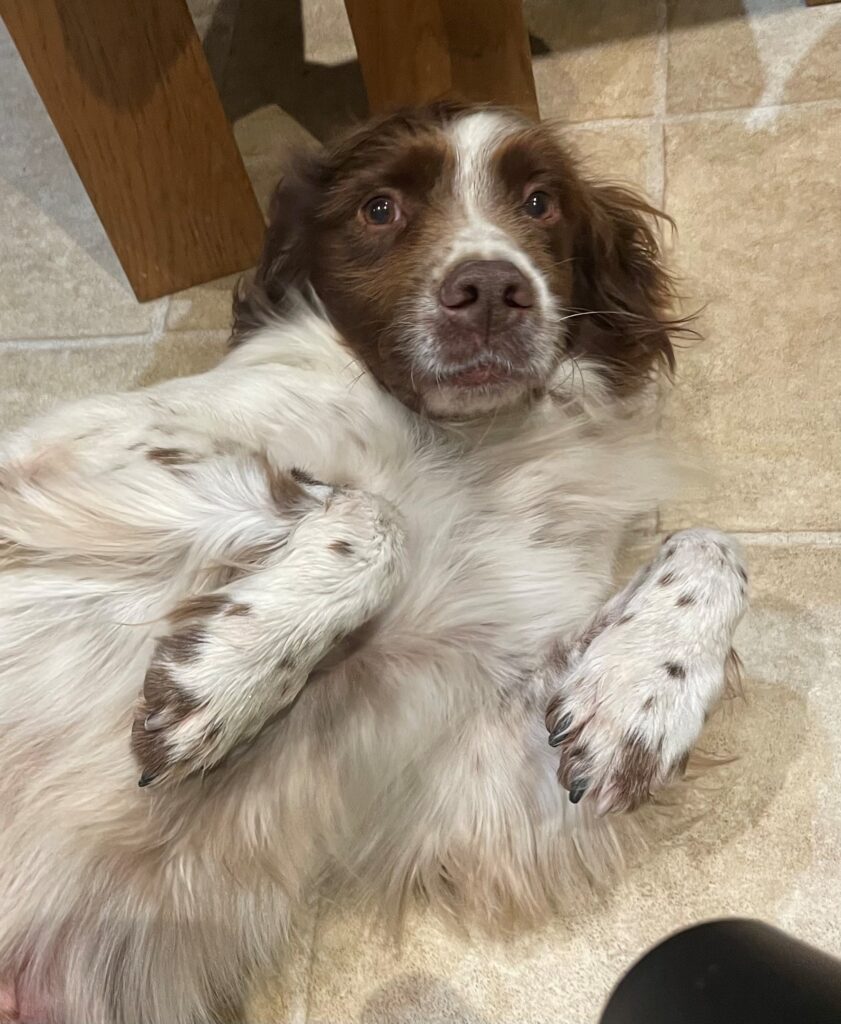 In March 2022 Ozzy retired from his duties and within days of moving to his new home he decided to take a snack on something in the park! He required emergency treatment to get him well again which cost a total of £341.
Total paid £341.06
---
Charlie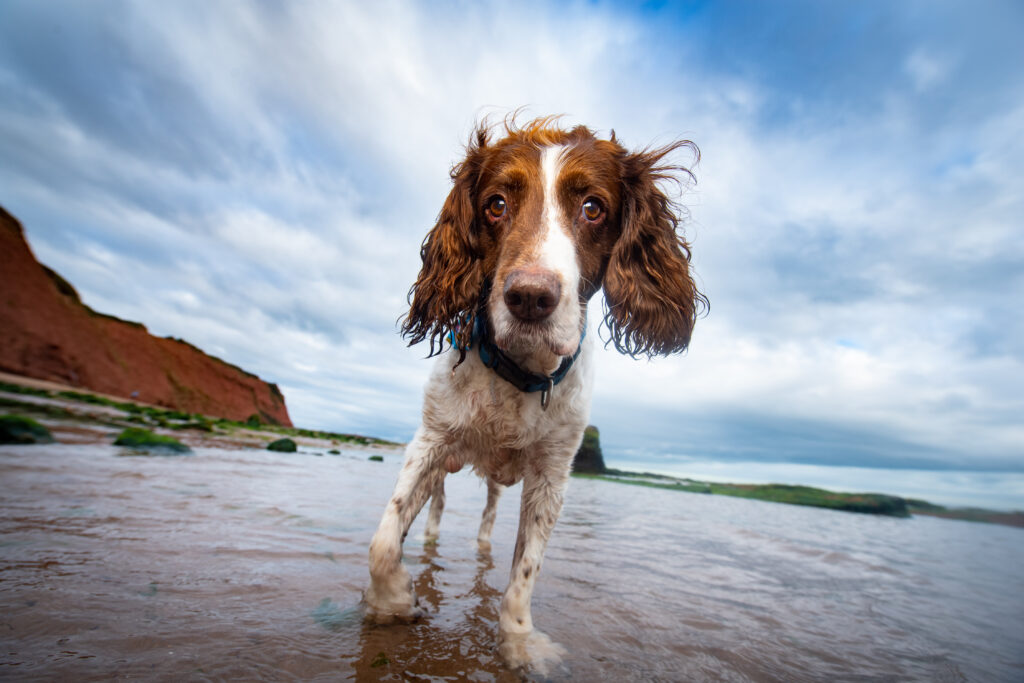 In March 2022 it was bought to our attention that Charlie has been receiving oral and injectable medication to manage his arthritis in both his front legs and lower spine. Charlie is such a lovely spirited dog and has a lust for life. We were very pleased to be able to assist Charlie with his back-dated and ongoing pain medication bills totalling £1066.
Total of £1066.81 paid.
---
Charley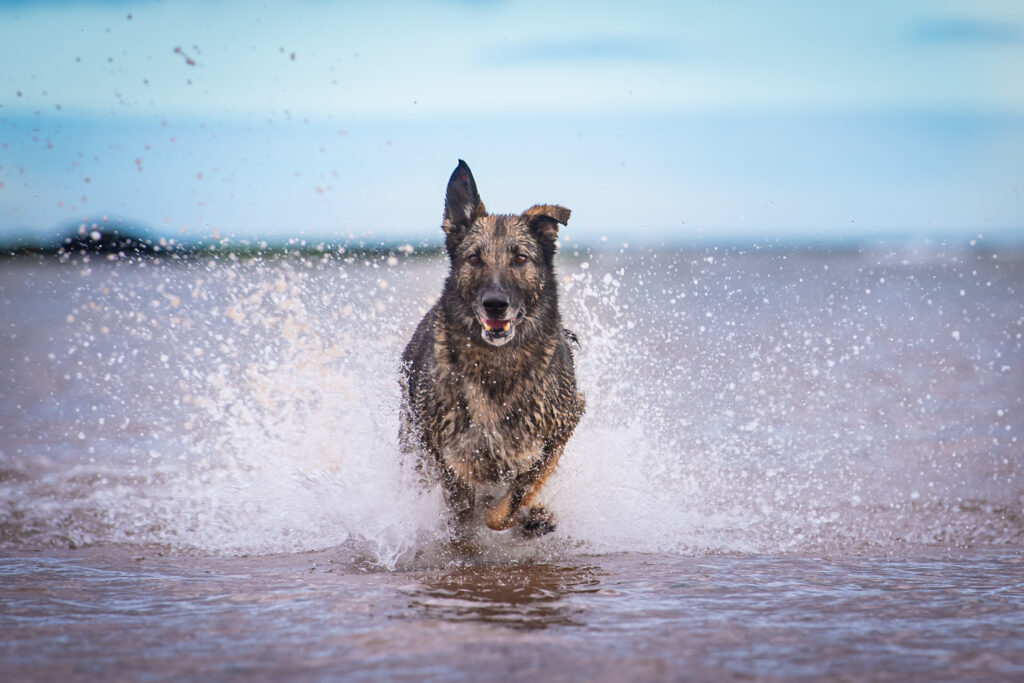 In September 2021 Charley managed to split her ear. This required an out of hours visit to the vets and surgery to repair the ear costing a total of £830.
Total of £830.59 paid.
---
Annie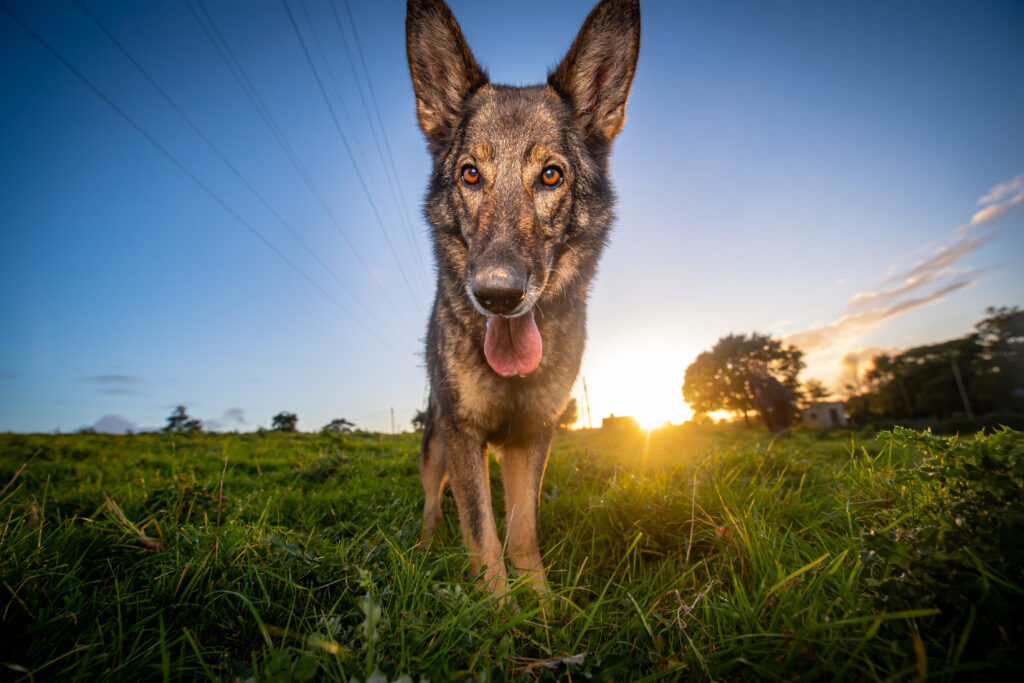 In January 2022 Annie was having issues with a skin infection/rash. On attendance to the vets she was provided mediation to treat the issue costing £128.
Total of £128 paid.
---
Boris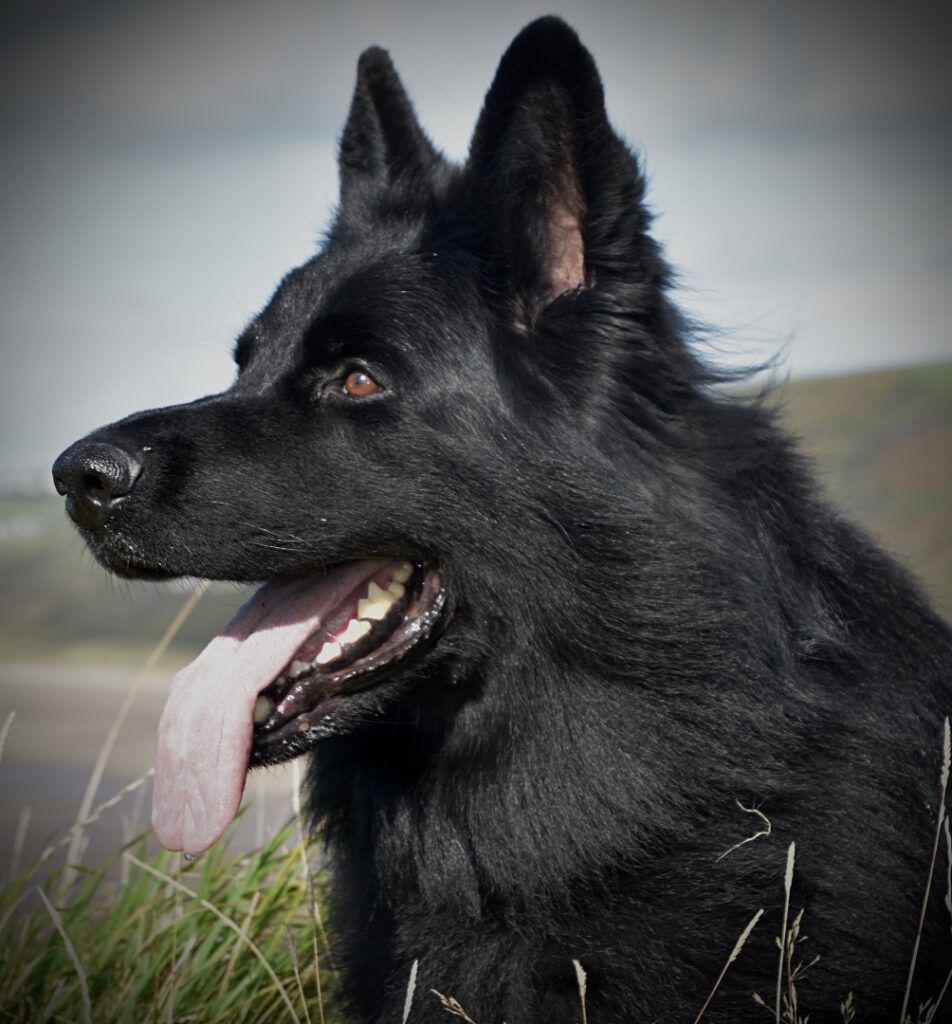 In January 2022 Boris had been suffering with stomach issues. Diagnostic tests were done which included X-rays and a gastroscopy resulting in the recovery of a sock and some small pieces of metal which had been ingested. This treatment totalled £1274.65.
Total of £1274.65 paid.
---
Riggs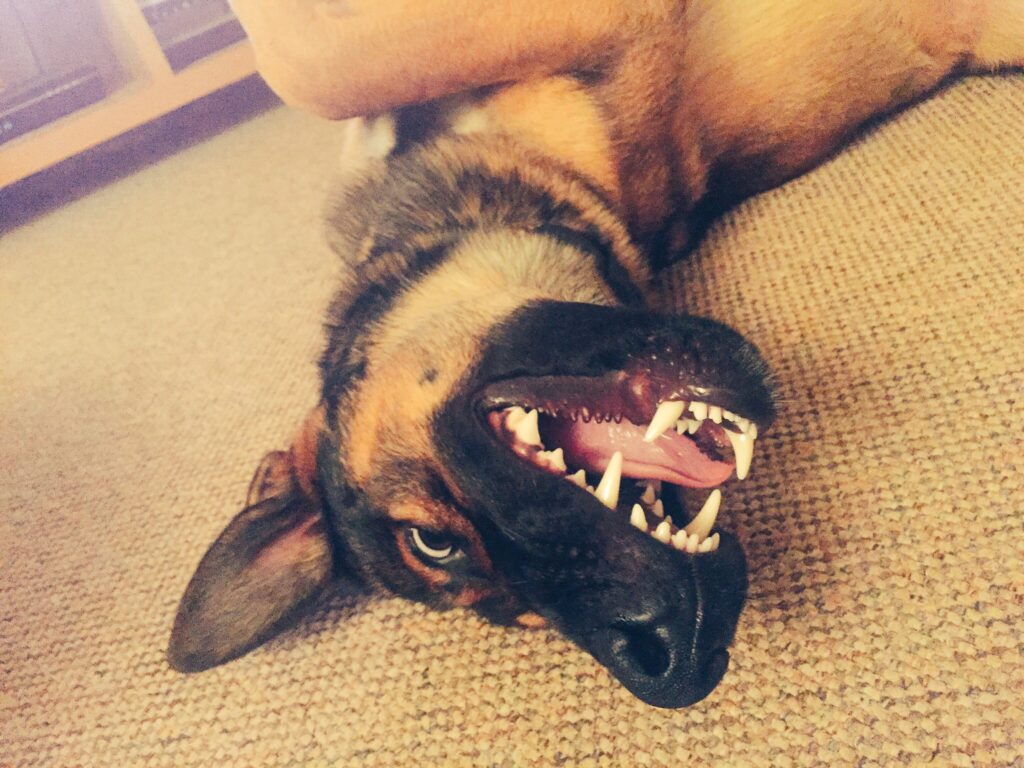 In November 2021 Riggs injured his cruciate ligament in his rear right leg and required major surgery called IPLO to fix the ligament. Riggs has already had this surgery completed on his right leg which was the cause for his retirement in 2020. It is vey common that if one goes the other will go in time. This is the case for Riggs. The total for this surgery which has been paid by Pawsome Pensions was £3299.95.
Total of £3299.95 paid.
---
Molly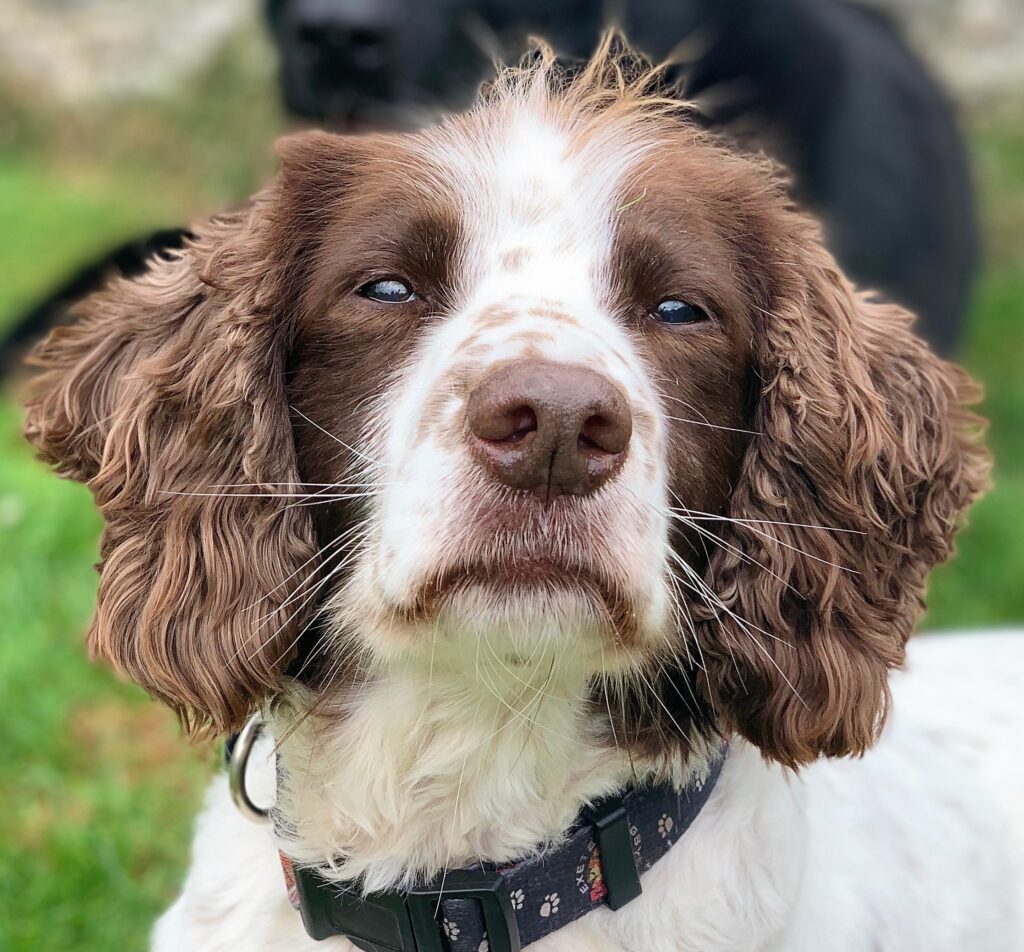 In November 2021 Molly was simply just being a spaniel and hurt herself. She required X-rays and medication to treat a ruptured disc in her back totalling £448.41.
Total of £448.41 paid.
---
Rosco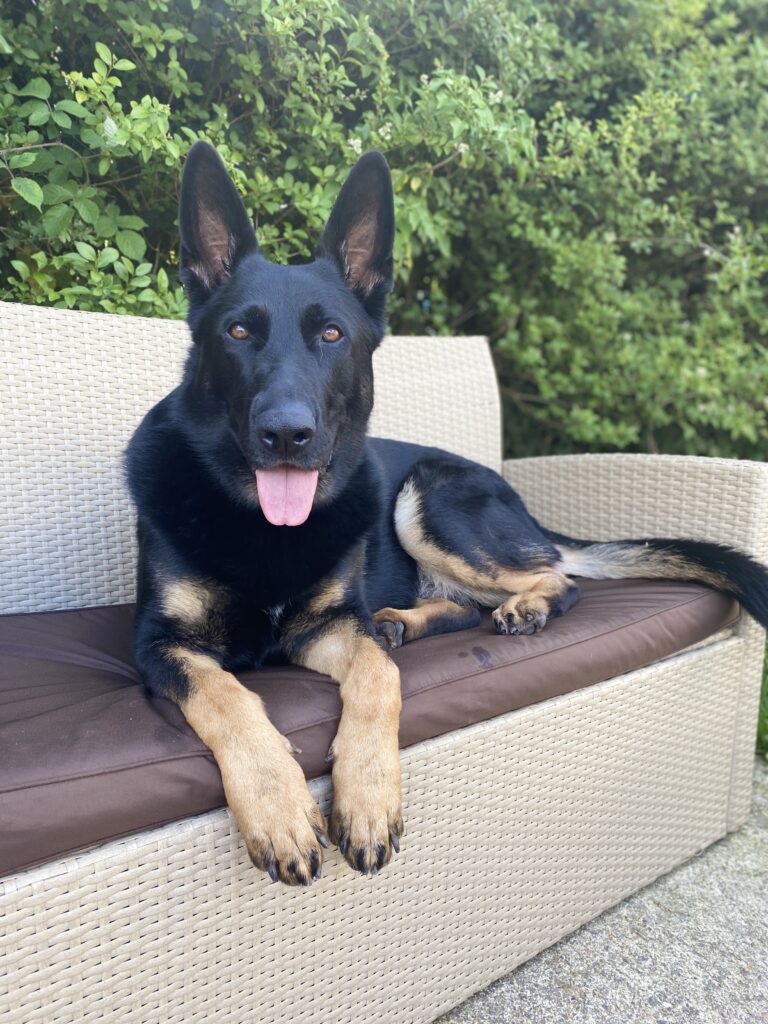 In the summer of 2021 Rosco was diagnosed with Haemangiosarcoma in his tail. To treat the cancer Rosco needed to have his tail removed and then further treatment involving chemotherapy and blood testing. Fortunately Rosco was insured and most of the treatment was covered by this. However it reached the maximum amount claimable. Pawsome Pensions helped by paying the remainder of the treatment totally £735.51.
Total of £735.51 paid.
---
Harry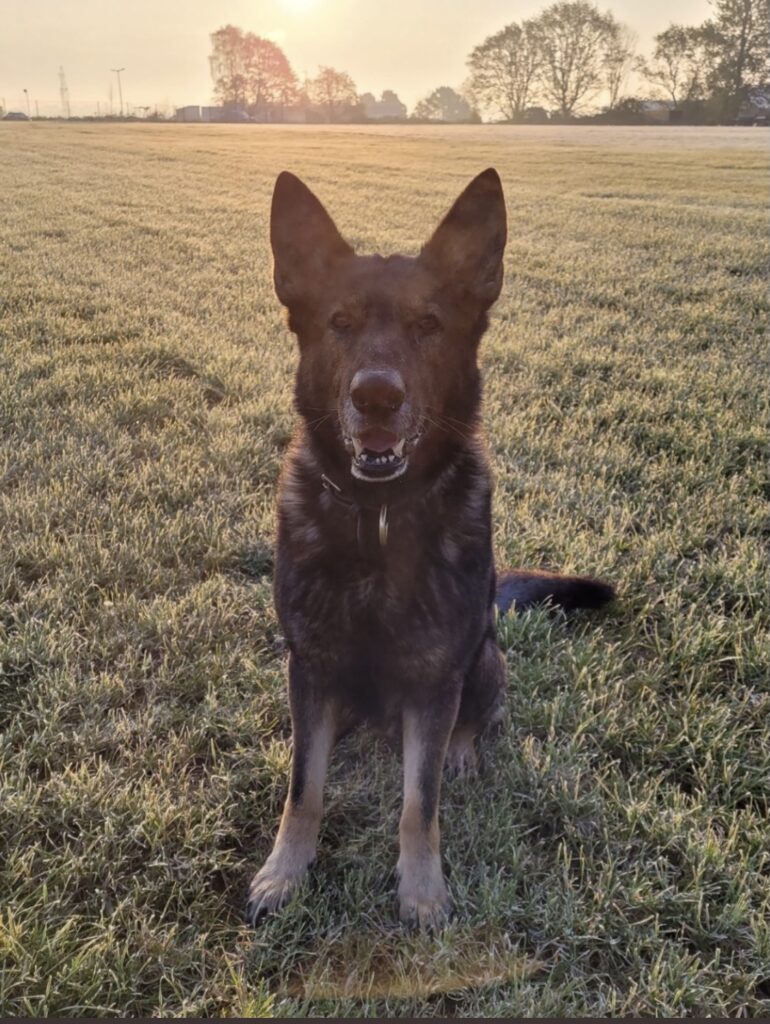 In October 2021 we helped by paying the bill for Harry. He became poorly in early 2021 within a few months of retiring from a full career. Whilst investigation was completed under sedation it was discovered that he had a burst tumour on his spleen. It was decided by his handler to let him slip away at the time. Such an awful situation and horrible decision to make. Harry went peacefully over the rainbow bridge.
Total of £877.23 paid
---
Amber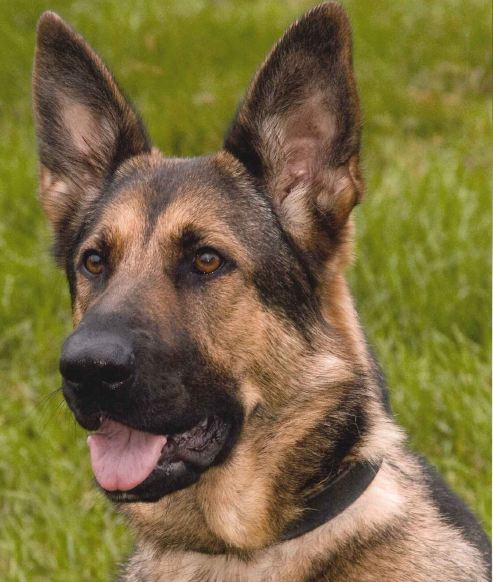 In November 2021 Amber required surgery for a tumour on her eyelid which was causing irritation to the eye. The surgery and all medication came to a total of £722.51 which we paid.
Total of £722.51 paid.
---
Bowser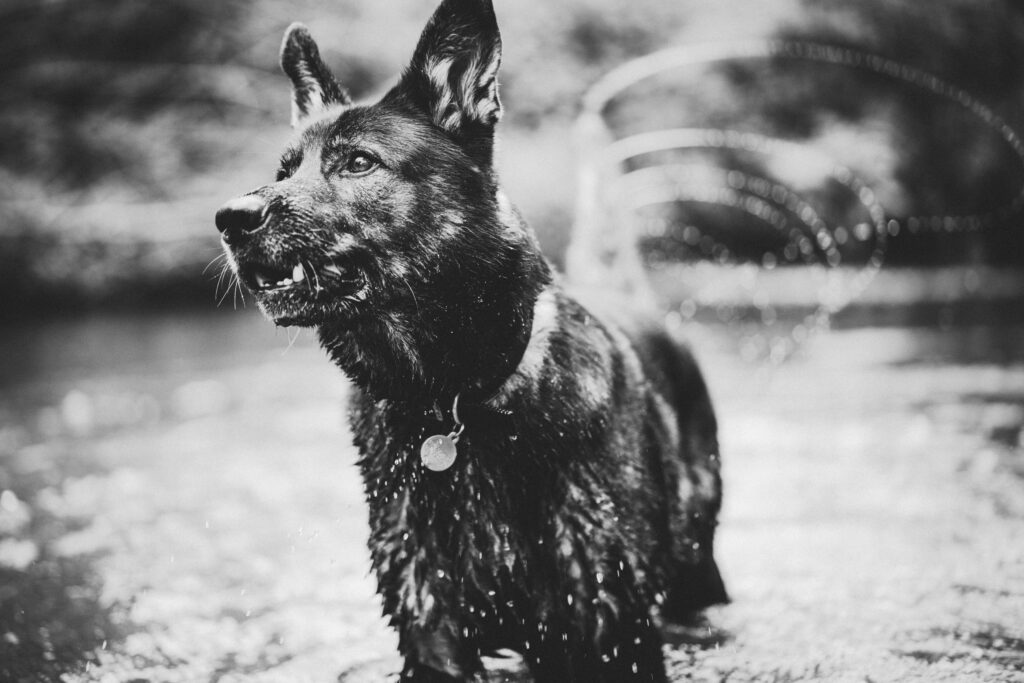 In July 2021 Bowser was having issues with breathing. He went through some tests and was giving some pain relieving injections costing £517.84.
In Feb 2022 Bowser needed some more help due to a bout of sickness and Diarrhoea and difficulty with his back end. X-rays showed he has hip dysplasia and Spinal arthritis. Treatment for the spell of sickness and x-rays cost £541.96.
Pawsome Pensions were able to help with the bills.
Total of £1059.80 paid.
---
Jack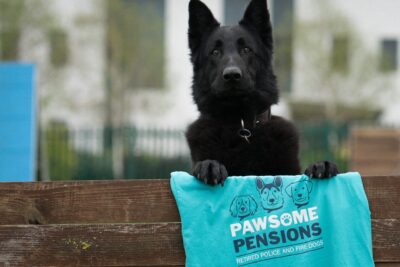 RPD Jack was helped by Pawsome Pensions in May 2019 as he requires on going medication for arthritis and spondylosis. We paid £247 towards his medication and will be continually assisting whenever possible.
Update – Pawsome Pensions have helped with a further £507 towards Jack's medication in Jan 2020, another £270 in May 2020, £433.21 in October 2020, £217.20 in March 2021 and a further £424.80 in August 2021.
This assistance means Jack can continually receive his required medication enabling him to lead a nice retirement with his handler.
A total of £2157.21 paid.
---
Mollie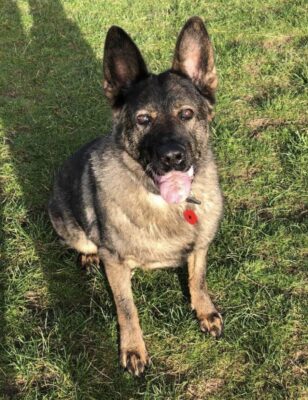 In January 2020 we helped Mollie GSD with £516 towards her veterinary care for an underactive thyroid, weak bladder muscle and painkillers for a shoulder injury sustained whilst working. Our assistance has helped towards the testing, diagnosis and ongoing treatment of Mollie's problem, enabling her to receive a treatment plan for the future, ensuring she remains fit and healthy and able to receive a fab retirement regularly running around on Exmouth Beach.
Update – We have since helped with a further £606.45 in July 2020, £209.05 in February 2021, £221.14 in April 2021, £1119.13 in July 2021, £450.72 in December 2021 and a further £201.69 in February 2022 for the above issues.
A total of £3323.52 paid.
---
Riley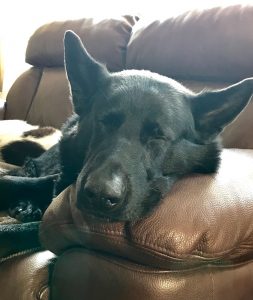 In September 2020 RPD Riley started needing a little help with his joint pain. Pawsome Pensions covered the bill of £98.57. Riley will need continued support for his joints from now on.
In January 2021 Riley received our full support after he had a check up and his pain medication for the last few months paid for, totalling £196.
A total of £294.57 paid.
It is with great sadness that we report that Riley has now gone over the rainbow bridge.
---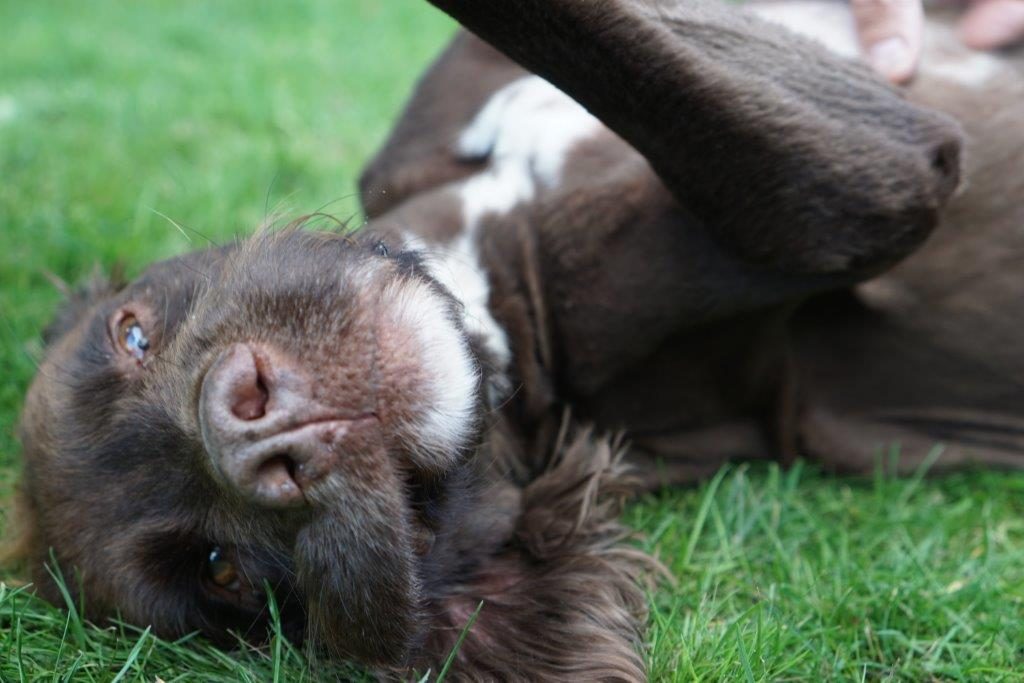 Jack
In October 2018 Jack became very unwell and it wasn't looking good and ended up having to have major surgery due to bladder stones. Jack made a fantastic recovery due to his treatment and is back running around again now. His owner Mark had a bill of £1,772 and Jack will need ongoing tests and medications to manage this in the future. So far those further tests and medications have come to £557 as of March 2020.
Pawsome Pensions helped Jack with £835 towards his operation and will support him into in the future with his tests and medication. We have contributed a further £139 towards these so far in Feb 2019. The treatment Jack received was life saving and expensive. Pawsome Pensions' assistance at the time and further assistance with medication ensured the treatment for Jack was possible.
In September 2020 Jack required further blood tests and medication resulting in a bill of £109.80, Pawsome Pensions covered the full bill for Jack.
In November and December 2020 Jack had support for his pain medication and also investigations for a suspected heart murmur amounting to the full bill payment of £297.
A total of £1380.80 paid.
It is with great sadness that we report that Jack has now gone over the rainbow bridge.
---
Blitz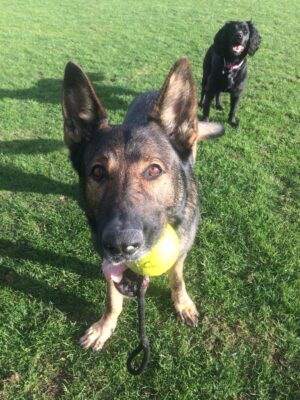 In October 2018 Blitz was the second dog we helped. Unfortunately he had a little problem in his rear end! Blitz had an infection in his anal glands, all dogs owners might appreciate the pong of such an issue and obviously the discomfort for the dog.
The treatment for this cost was an unexpected whopping £1,035. Blitz was insured, however the insurance company refused to honour the payment sadly. Pawsome Pensions managed to give his owner Lou £500 towards her bill, which was greatly appreciated.
Update July 20 – Blitz has unfortunately since needed a bit of help with a skin infection and an infected cyst on his back. We helped with £207 towards the bill.
In September Blitz was struggling with a skin infection and joint pain. Pawsome Pensions covered the vets bill of £179.80.
During November, December 2020 and January 2021 Blitz has received full support for his Arthritis and nerve pain medication, along with antibiotics for a cyst amounting to £311 he also received a further £44.87 in January 2021 for pain medication.
Blitz has had a few issues now and most certainly Pawsome Pensions' assistance has assisted with Blitz receiving the best care he can have.
A total of £1241.87 paid.
It is with great sadness to report that Blitz has gone over the Rainbow bridge.
---
Sally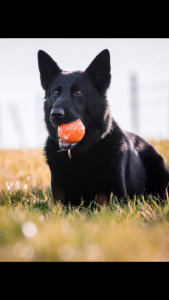 In August 2020 Sally got a little poorly with gastroenteritis and needed treatment along with medication for her arthritis. We have been able to cover the bill of £477.85.
In December 2020 Sally was struggling with sickness and underwent tests and treatment. Along with pain medication for her arthritis we paid the full bill of £657 to help with her care.
We help Sally with the meds she needs for arthritis in her wrist and shoulder. So far for this we helped with £587.79 in May 2021 and £455.87 in Sept 2021.
A total of £2178.51 paid.
---
Bodie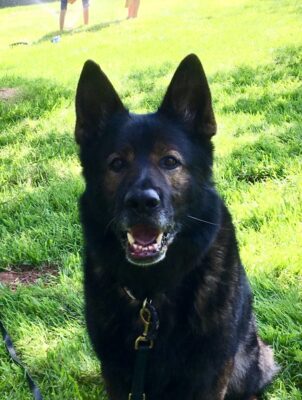 In June 2018 Bodie was our first retired dog requiring help. Unfortunately he was diagnosed with mouth cancer which had caused an infection and required the removal of a number of teeth. Due to his age his owner Ali has decided that it is best to manage his diagnosis rather than put him through advanced cancer treatment. As it stands, Bodie Bear is defying the vet and doing exceptionally well, although is a little wobbly now and deaf as a door post!
How we have helped Bodie
Mouth Cancer diagnosis and tooth removal. £600 – paid £200.
Ear infection in March 2019 – £312 – Paid £106.
Tooth removal, Ear infection and kidney tests. Dec 2019 – £567.88 paid.
Ear infection April 2020 – £127 paid.
Ear infection May 2020 – £57.31 paid.
Swollen leg and ear infection – £875.88 paid.
Blocked intestine emergency operation February 2022 – £1574.94
As Bodie is getting older and his mouth cancer progresses he will most likely require more help, which is something we will be here to help with. Bodie is a great example of why Pawsome Pensions was set up and got going, ensuring we can try and help towards the best veterinary care for Bodie and all Pawsome Pensions Dogs.
Total of £3509.01 paid.
---
Vinnie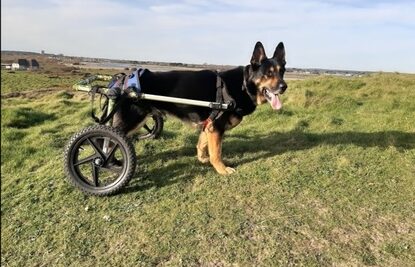 In April 2020 we helped with getting Vinnie up and running with his very own set of shiny new wheels! Vinnie suffers from degenerative spinal myelopathy, so as time goes on his back end is not doing what he wants it to! With such a young and playful mind Vinnie is now zooming all over the place.
Vinnie on his wheels
Total of £564 paid.
It is with great sadness to report that Vinnie has gone over the Rainbow bridge.
---
Shadow
In March 2020 Shadow needed some help due some chronic diarrhoea and intestinal issues. He is now on the mend and Pawsome Pensions assisted with his vet bill.
Total of £286 paid.
---
Clover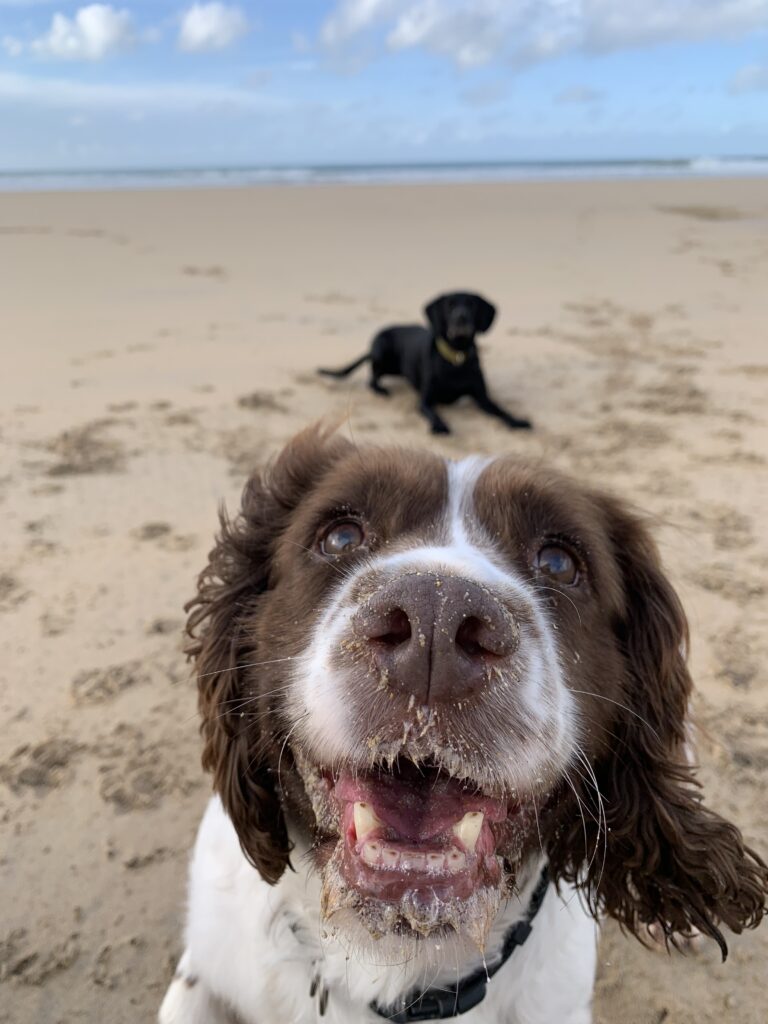 In January 2021 Clover's owner had concerns for her so popped her to the vets to discover she has a heart complaint. However the vet decided she does not require treatment for this at the moment. Pawsome Pensions covered the investigation costs of £178.
Total of £178 paid.
---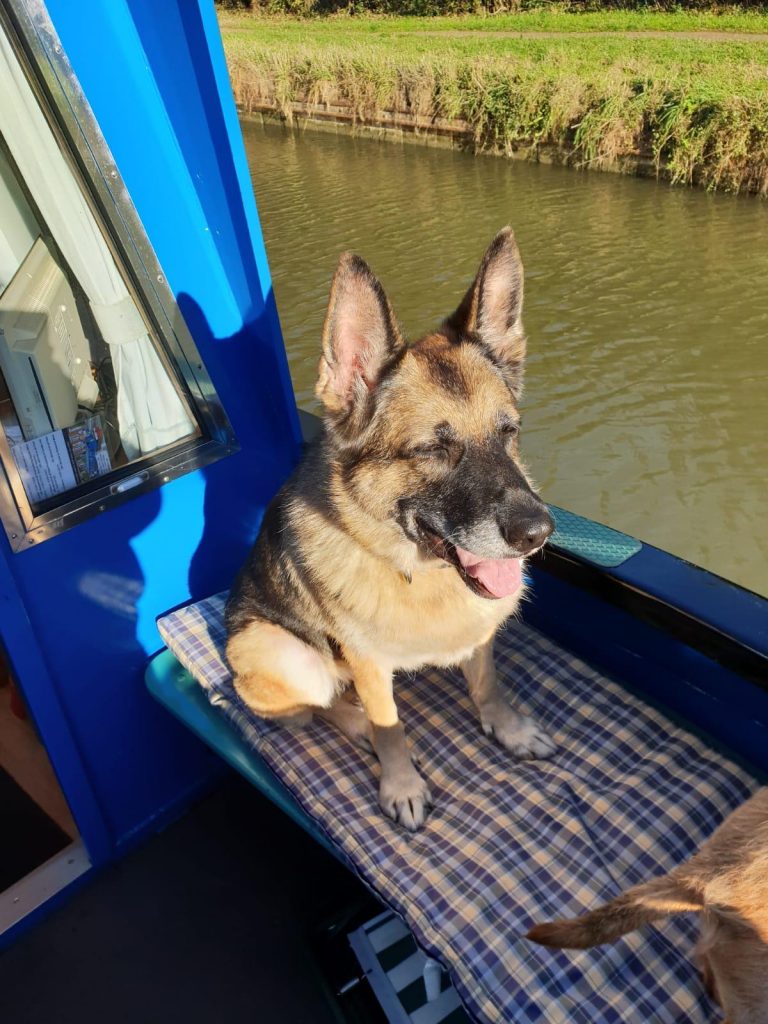 In October 2020 Lady received treatment for a skin condition which amounted to £134. We were so pleased to be able to cover the bill for her owners.
Total of £134 paid.
---
Sam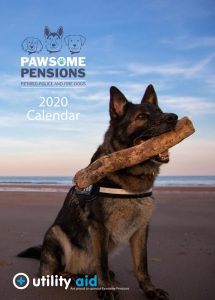 Our 2020 calendar poster girl Sam became unwell in July 2020, leading to lots of tests needed and an explorative operation. During the operation it was discovered that Sam had a large tumour on her spleen which was not treatable. A decision was made by Ed her owner to let her slip away peacefully and pain free. At such sad times for a furry friend's family we try to do as much as we can and on this occasion were able to cover in full the veterinary costs amounting to £1175.
Total of £1175 paid.
---
Koda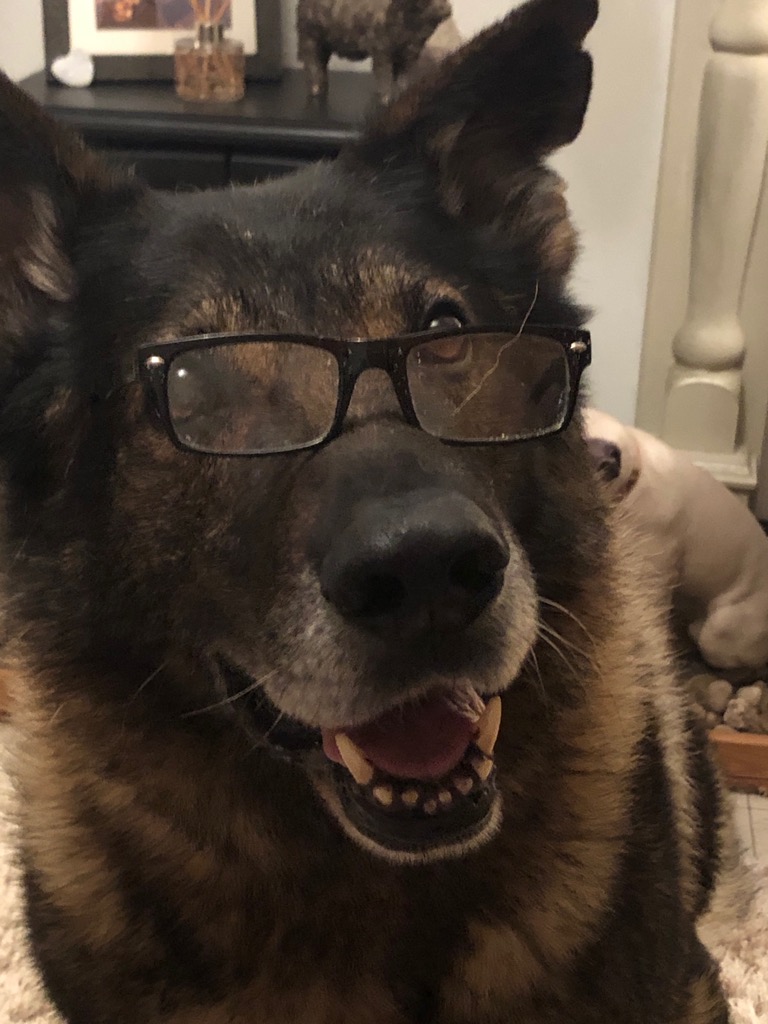 In November 2020 Koda was diagnosed with Degenerative Myelopathy. During investigations he was found to have a growth in his abdomen. Unfortunately due to his age and health it was decided that the best thing for this old bear was to peacefully let him slip away to the rainbow bridge whilst at the vets. During this awful time for his family we were glad we could help and covered the bill of £950.
Total of £950 paid.
It is with great sadness to report that Koda has now gone over the rainbow bridge.
---
Charlie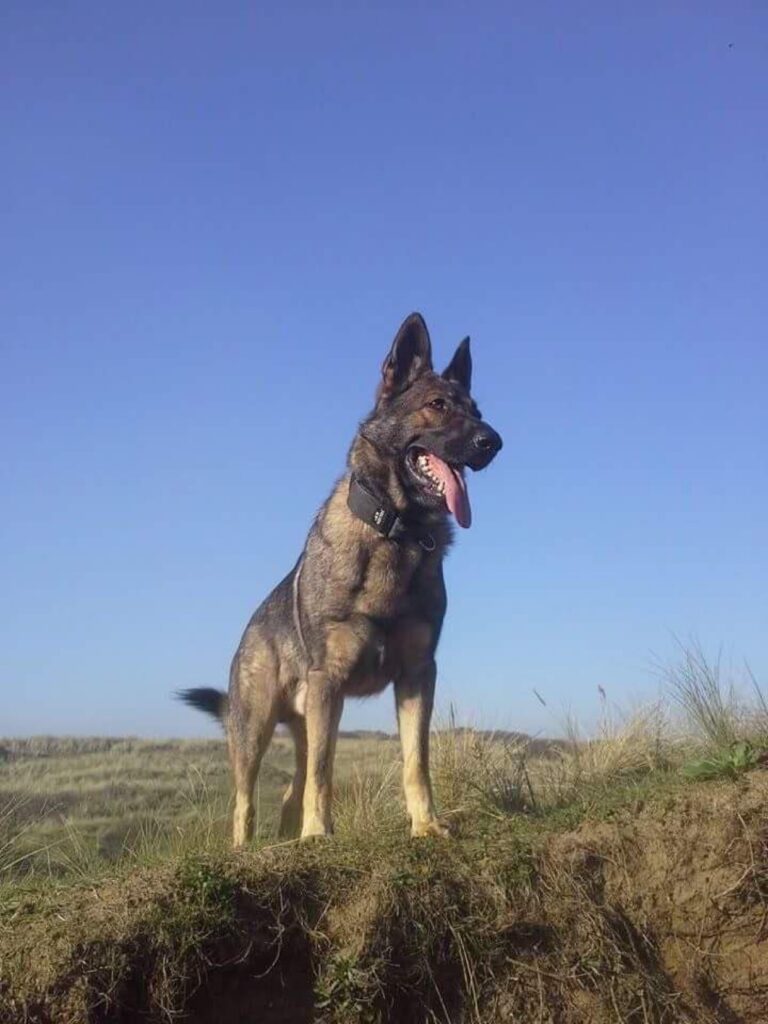 In November 2020 Charlie went to the vet to have a lump checked out. They decided to remove it, but sadly analysis of the lump and scans showed Charlie had Heamangiosarcoma which is a very aggressive form of malignant cancer that attacks the blood vessel's. His owners took the incredibly tough decision to save Charlie from going through any further pain and discomfort from this condition and had him put to sleep in order to let him run free over the rainbow bridge. During this aweful time for the family we helped with the bill of £444.
Total of £444 paid.
---
Loki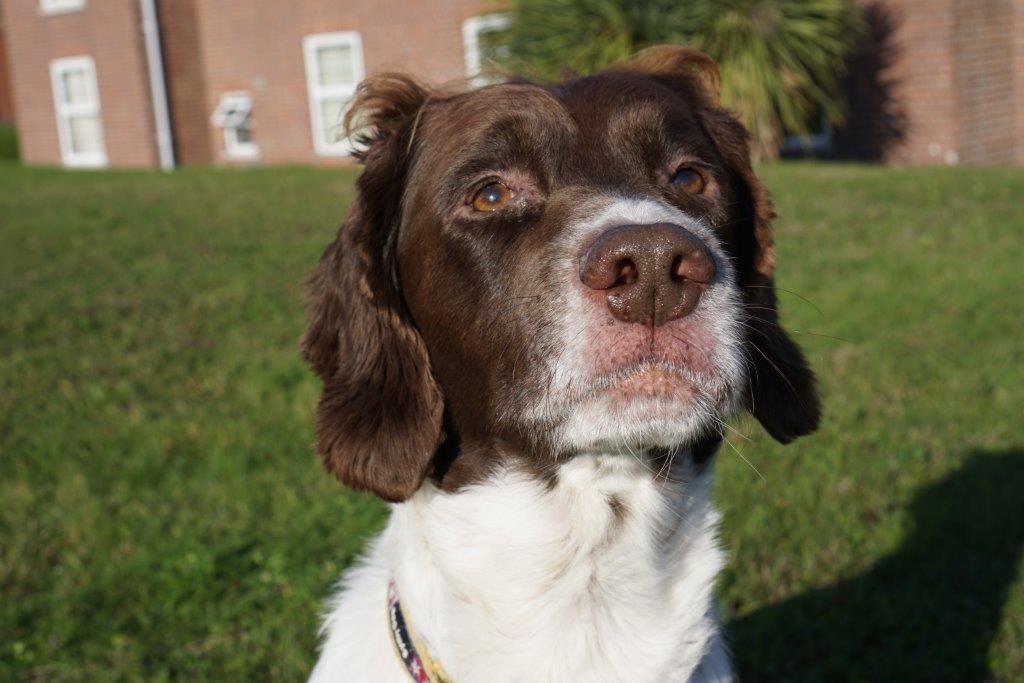 In August 2019 RPD Loki needed a little help with an ear and skin infection. Pawsome Pensions paid £70 towards the bill. This made Loki a lot more comfortable and able to get back to full health as soon as possible. Sadly in March 2020 Loki had to have an an operation but a large tumour was located and a decision was made to let him go. It is such a traumatic time for his owners and we were very glad we could help with £547 towards the bill. Sleep well Loki xx
Total of £617 paid.
---
Maverick
In July 2019 Pawsome Pensions helped with £176 towards Maverick's veterinary visits for anal furunculosis ………poor chap.
Sadly Maverick lost his fight and went over the rainbow bridge in September, But hopefully his treatment before hand assisted Maverick keeping him comfortable.
Total of £176 paid.
Registered Charity: 118890